Full-Sized SUVs Available at O'Neill's Chevrolet Buick in AVON
Full Sized Chevrolet SUVs for Connecticut Shoppers
In the time of the crossover revolution and the electric car, in the USA there's still a healthy demand for full-sized SUVs. The kind that won't fuss over having to go cross muddy roads, or gravel laced fields, or even a river. Vehicles that will not shy away from driving over Yukon territory and that can transport two families at a time while hauling timber in excess of 8000 pounds. The hard workers, the doers of the auto world. We're here to talk about two of them, Chevrolet's Suburban and Tahoe models.
The Chevrolet Suburban
The Suburban is the oldest nameplate still in production today. It debuted before the Second World War, if you can imagine, way back in 1935 and it's now close to celebrating its 100th birthday. Traditionally one of Chevrolet's most profitable cars, it lived to see propeller airplanes take for the skies and then it saw them replaced by modern jet engines. It briefly lived in a world where there were no atomic bombs and was probably driven to concerts from the likes of Jimmy Hendrix, the Beatles, Queen, and the Doors.
Two engines are available to choose from. The base is a 5.3-liter V8 that produces 355 horsepower and 383 pound-feet of torque, coupled with a 6-speed automatic. The upgrade takes the form of a phenomenally powerful 6.2-liter V8 that will give out no less than 420 horsepower and 460 pound-feet of torque. Matched with a 10-speed automatic the ladder is able to tow 8300 pounds, with a fully loaded cabin.
Behind the third row of seats, there are 40 cubic feet of storage space. If you fold one row down, you'll increase that to 77 cubic feet, and if you fold both rows down, you'll get 122 cubic feet of storage behind the front seats.
Basic models come with the LS trim level which includes an 8.0-inch touchscreen, Android Auto, Apple CarPlay, 3-zone climate control, and power-adjustable front seats. A step up the trim levels and you'll get the LT package that will add leather seats, a BOSE sound system, power liftgate, and the Enhanced Driver Alert package that includes active safety tech like assisted lane keep and automatic low-speed emergency braking.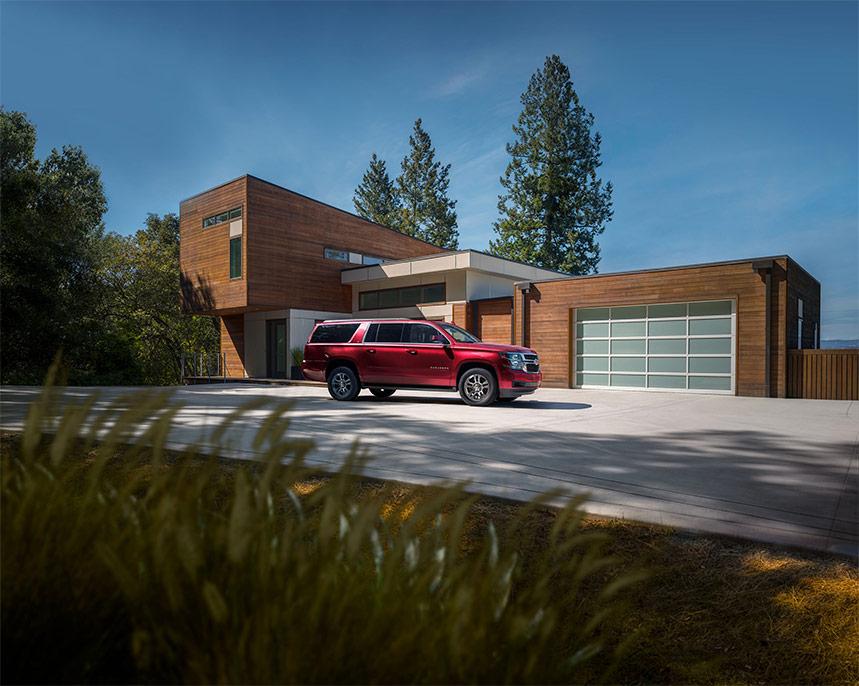 The Chevrolet Tahoe
Chevrolet's Tahoe
is no lesser. This old-school cool rugged beast is a true workhorse packed with all the modern comforts. The truck platform it's built on and a powerful engine make it able to handle any type of terrain with ease while still offering a comfortable ride around town.
Just like with the Suburban, the Tahoe also hosts tons of tech. Standard features include an 8.0-inch touchscreen, Apple CarPlay, Android Auto, dual-zone automatic climate control, Bluetooth phone, and audio support, and five USB ports throughout the vehicle.
We have both models in all trim levels right here in our showroom in Avon Connecticut. Our sales team is ready to guide you through the multitude of choices and help you customize the perfect full-sized SUV that perfectly matches your needs. We can also arrange for drive tests, all you have to do is pay us a visit, the rest is on us.